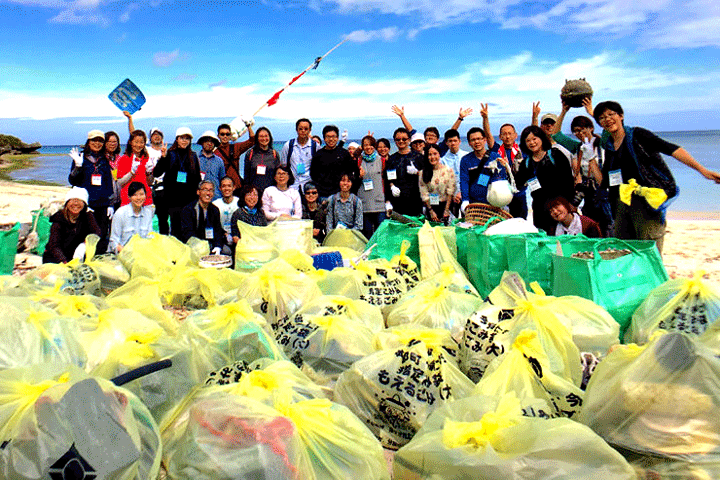 In February 2018, the Foundation and Taiwan NGO, along with the government agencies, were invited to Okinawa, Japan to attend the 'East Asia Exchange Program on Marine Litter' forum, discussing with China and Japan on how to manage Marine Litter.
This forum was started in 2014 by the Okinawa county government, inviting concerning parties on Marin debris from Taiwan and China to exchange regional information and to provide solvable approaches. Started 2016, the Foundation started aggressively promoted plastic reductions, such efforts were acknowledged, and hence invited to join the forum.
This year the forum was focusing on the promotions to other organizations, Taiwanese groups shared various activities, e.g., dedicated markets, campus carnivals and many accessories for plastic-free. The Foundation also shared experiences from students and manufactures, as well as the key role that LeeZen plays as a distributor, leading reductions of plastic wrappings by suppliers. Japanese shared their experiences on lending eating utensils to replace disposable plastics. Chinese shared their various websites, scientific surveillances and river-guarding efforts, etc., these are all valuable experiences to learn from.
These exchanges will be continued, thru the joint efforts by Taiwan, China and Japan. Japan will set up a dedicated website steaming information from various websites, in hope to expand the promoting power and larger areas. The Foundation also hope to aggressively promote multiple cooperation thru this platform and make joint effort to work on recovering the clean ocean.