Liyi Cheng /Director of Tree Planting (second from right) and Commissioner Yufeng Ding (second from left) responded to the concept of "Stop talking, start acting!"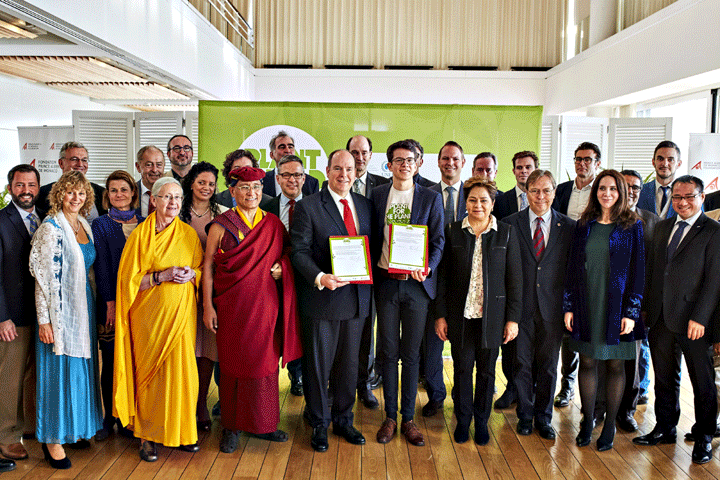 The Tse-Xin Foundation participated in the PlantAhead campaign in Monaco on March 9th. The campaign was organized by the internationally renowned Plant-for-the-Planet organization, and co-organized by the United Nations Environment Programme (UNEP), the Wildlife Conservation Society, the World Wide Fund for Nature and BirdLife International.
The campaign was convened by Prince Albert II of Monaco and organized by the Plant-for-the-Planet. It was hosted by the founder, Felix Finkbeiner. 400 participants coming from environmental organizations, politicians, Entrepreneurs, scientists and many others, who are concerned about environmental issues participated in the tree planting forum, and declare their determination to sustain the earth. Everyone vowed that they would plant one trillion tree on the earth within 25 years. The Tse-Xin Foundation is honored to be the only Asian in the team, and announces the vision to unite the power of Taiwan and the international community to plant 100 million trees together, in order to achieve a sustainable earth through the compassionate concept of harmony between man and nature. Others, such as ForestNation, have vowed to plant 100 million trees in 25 years, and Ecosia Internet Search Engine Company has vowed to plant 200 million trees by the end of 2020.
"PlantAhead" was convened by Prince Albert II of Monaco, and Felix Finkbeiner was the host
The event also invited leaders of the Mahayana Buddhism Deruk Sect as well as an environmental protection and peace advocates, Gwangwang Drukpa, BirdLife International CEO Patricia Zurita, and Ritter Sports CEO Alfred Ritter to make suggestions from multiple perspectives. For example, although many countries of the world have signed the Paris climate agreement, but we need to brainstorm and exert influences through the power of the whole world, and start to reduce carbon dioxide and plant trees with action. Experts use data to provide various effective carbon dioxide reduction actions. In addition to planting large numbers of trees, experts also recommends to use friendly environment methods when farming, so that the abundant microorganisms in the soil have good carbon sinking effect. Planting trees not only contributes to the environment, but also allows local people to be hire for project work and creates local employment opportunities.
Plant-for-the-Planet organization and tree-planting ambassadors from around the world